Panels generating at Muswell Hill Golf Course
The installation was completed in February and the amount of electricity generated to date is 4.37Mw. Self-consumption amounted to 2.94Mwh (see left for panels).
The amount of CO2 saved to date is 1160kg and the equivalent of nearly six trees. Thanks to investors and supporters.
Hampstead School – latest results
Subsequent to meeting the investment target, the panels have been installed.
As of the first week of April, the panels had earned £182 and produced 4793kWh. Thanks again to investors and supporters.
Elizabeth House installed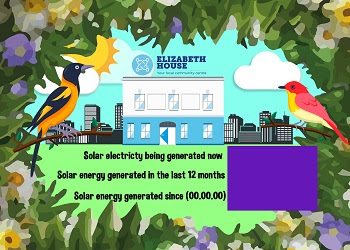 A total of 1048kWh has been produced at Elizabeth House, with 753kWh self-consumed, and 295kWh exported.

PUNL project managed the installation of a 10.26kWp system at Elizabeth House Community Centre, in Islington at the end of November 2019.
Export has been higher than normal in recent weeks due to the lockdown. CO2 emissions saved amounted to 297kg.
Dixon Clark Court – work underway
Currently work is underway to determine how best to supply the solar electricity generated to the communal areas and residents using a microgrid.
Last August PUNL won an Islington Council grant to undertake a feasibility study for a solar PV and private wire (microgrid) system at Dixon Clark Court which is a 15 storey residential block owned by the Council.
The Council provided funding from its Community Energy Fund (ICEF) for the feasibility and also for the capital to procure the panels.
Solar PV can be installed at this site and PUNL must also put the appropriate legal arrangements in place between the Dixon Clark Court TMO and the Council/Residents.
Paradise Park – next stage
A feasibility study has concluded that a solar PV array can be installed and would be beneficial from an environmental, social and financial perspective at Paradise Park Childrens' Centre.
Last August PUNL also won an ICEF grant to undertake a feasibility study for solar PV, and to look at energy efficiency measures at Paradise Park Childrens' Centre, partnering with XCO2 who are a local consultancy practice with expertise in this area . XCO2 submitted a detailed report on measures to reduce energy use and improve thermal comfort at PPCC.
The next step is to apply for a follow-on ICEF grant to procure and install the solar panels and to implement some energy efficiency measures.

Volunteer help needed
PUNL needs volunteer help with social media. If you have skills in this area please email: powerupnorthlondon@gmail.com.
PUNL meetings on hold
We were in the process of planning a series of events to get all of our investors together, but in light of the current Covid-19 crisis, this is on hold and we will update you in due course. In the meantime stay safe.
Net-zero Islington by 2030?
Islington Council has produced a consultation paper: Vision 2030: Building a net zero Islington by 2030 in response to its declaration of a climate emergency and what it plans to do to meet the target.
Originally it wanted to hold a series of workshops, but due to the Covid-19 crisis, it is consulting online, and will provide more information when the crisis is lessened.

Islington Council says it is aiming for a fairer place for everyone by reducing inequalities which are made worse by climate change and states that although it has a leading role, it must work closely with residents, businesses and community groups.

More information:

GLA pushes for Neighbourhood Planning support for renewables
In a report, the Greater London Assembly has urged the mayor to reintroduce policy and text that explicitly sets out how Neighbourhood Planning can support local priorities and renewable energy schemes and the Mayor's Good Growth objectives.
Budget and renewables
Although the government allocated £100 million funding to replace fossil fuel heating in homes and small, non-domestic buildings and an extension to the Renewable Heat Incentive post-2021, albeit for 12 months, community energy groups were disappointed there wasn't a reinstatement of Social Investment Tax Relief.
Also missing – a reverse in the increase from 5-20% for Energy Saving Measures.
Separately, community energy organisations have been given a six month extension to complete and register feed-in tariff projects.